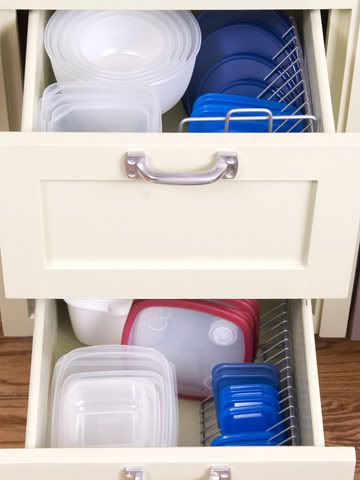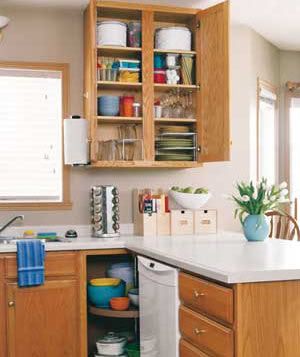 I
am moving soon and I really want to start new and fresh with an organized place. So I have been drawing inspiration all over the Internet. One of my favorite hobbies is cooking and nothing compares to cooking in a kitchen that is organized. It's a menace to cook in a kitchen when I can't find what I need. It can be disheartening for me. Although, my new kitchen is small I am using the best organizing techniques to get the best functionality out of my new kitchen.
♥ The first picture from Better Home and Gardens used a CD rack as a Tupperware lid holder.
♥ The second picture from Martha Stewart uses tension rods to divide baking pans and cutting boards. I have to be honest, unless I see this at the dollar store chances are I am not going out of my way to find them.
♥ The third picture is from Real Simple, this highlights different ways to use lofty shelves for your convenience to separate the different sized plates. This kitchen also arranges its items by how often you use them.
♥ The left picture is from Real Simple and it uses a desk organizer as a cupboard divider.
♥ The right picture is also from Real Simple and they use an open cabinet look with baskets to keep it attractive. I am a sucker for those baskets, I have them in my room to keep it tidy.
♥ The Last picture is from Southern Living, it uses divided shelving as a new inventive way to store your plates.
I hope you were inspired.