The Queen of Glam Grunge Accessories
I have been a fan of the cross since I was a little girl. It's a trend now, but it stands for the love God has for all of us. For some reason when I look at the skull trend I think it's demonic. However, I know it doesn't have to symbolize the devil but, I just think of bad stuff when I see it. I still like the art of a skull head though.
It looks like the jewelry picked her instead of the other way around. Don't you love her bed hair with the pretty tattoo? The details make this photo fierce!!
Accessories
C
heck out this arm swag. I am in love with the spike trend and it adds depth to the femme pieces. Also I like how her necklace picks up the color of her shirt. In fashion it's the details that matter.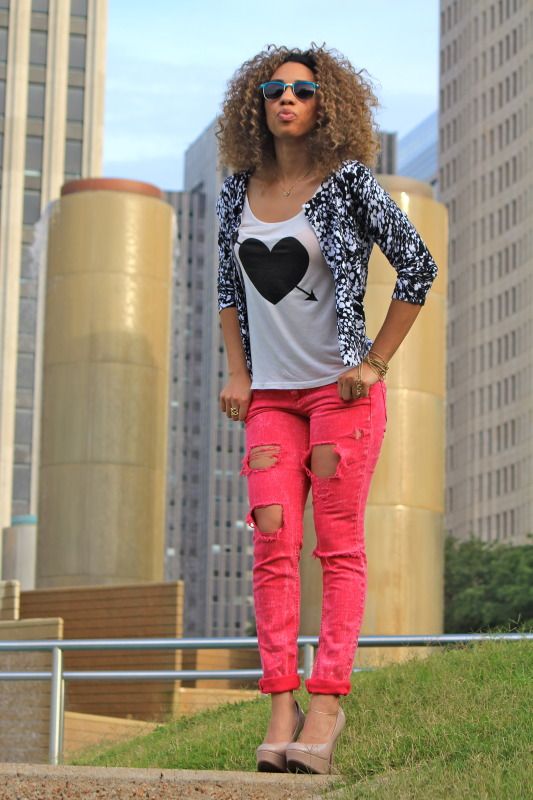 Sunglasses:
I got them at Marshall's for $1. The cash rep. couldn't believe my find. She tried her hardest to have a manager override that price because it was "too low" according to her. Wish for the day: I wish she wasn't such a hater.
Heart Necklace
:I got this gold necklace a while ago from my Mom's ex. He had good taste in jewelry.
Ring:
This was a splurge purchase at Target. I love the ring, it's a statement piece.
Necklace turned Bracelet:
I forgot where I got the necklace from but it worked out great as a bracelet/ ring.
Pumps:
Nude/naked platform pumps I bought them at Charlotte Russe.
Ankle Bracelet:
I loved my anklet. I bought it from Dillard's a while ago but, I just recently broke it... "Oh the Horror!" Now, I'm sad all over again.
Shoes:youheshe.com $525, Messenger bag: zara $100, necklace: luisaviaroma.com, Earrings etsy.com $25
I
have always longed for the day when the wedge sneaker would be back in full effect. I remember this trend from the days of school girl crushes, the Britney Spears take-over and 11 o'clock curfews. Your age starts to show when you see a trend and say, "Hey, we used to wear that." Honestly, I never thought I'd see the day so soon.
It is my belief that you will be seeing this a lot this Fall. The wedge sneaker can be dressed up or down. It can instantly edge up any outfit. I plan on relying heavily on this footwear this Fall. I am looking for a pair to snatch up now.
I hope you all had a wonderful weekend.
Prim and Proper
1. Top left Lordandtaylor.com $20, Swarovski element $196, vintage Chanel $610, bottom left vintage Chanel $610, Kate Spade $78, Forget Me Not pinterest.com
Bad Gal
2. Top left Sakdidet $73, Vanessa Mooney $90, Ileana Makri $2,190, Noir $28, F Comme $47
Miss Minimalist
3. Top left oasis-stores.com $50, pinterest.com, Mulberry $195, bottom left Armani Exchange $29, Oxygenboutique.com $220, Alexander McQueen $325, H&M $11, YSL $1,189, gojane.com, House of Harlow $210, misselfridge.com $32, Biderman $1,350
Coachella Chic
4. Top left maxandchloe.com $113, rockabellajewels.bigcarte, imtheitgirl.com, top Dezso $120, bottom left maxandchloe.com $200, maxandchloe.com $300, rockabellajewels.bigcarte